Five dedicated fly fishing guides working the waters in and around Tampa Bay, from Sarasota to Homosassa, along the West Coast of Florida.
Meet the guides
Check out some of our most recent photos from our guided fly fishing charters in the Tampa Bay area and gulf coast of Florida.
View Our Photos
A collection of short fly fishing videos from our area that help to showcase the incredible fishery that we have here in Florida.
Watch videos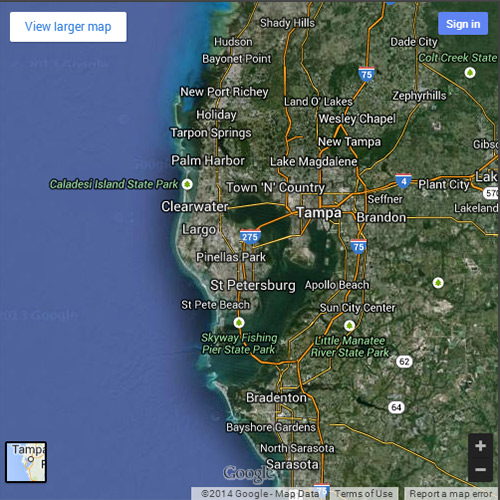 West Central Florida – Tampa Bay to the Nature Coast
Tampa Bay is Florida's largest open-water estuary, extending over 400 square miles and forming coastlines of Hillsborough, Manatee and Pinellas counties. The freshwater sources of the bay are distributed among over a hundred small tributaries, rather than a single river. The bay bottom is silty and sandy, with an average water depth of only about 12 feet.
Tampa Bay's shallow waters, sea grass beds, mud flats, and surrounding mangroves provide habitat for a wide variety of wildlife. More than 200 species of fish are found in the waters of the bay, which provides some incredible fly fishing opportunities for species such as Tarpon, Snook, Redfish, Cobia, and Sea Trout, to name a few.
The Nature Coast consists of the area from St. Joseph Sound in Pasco county, up the gulf coast to Ochlockonee Bay in Wakulla county. Along this stretch of coastline, crystal clear spring fed rivers flow into beautiful salt marshes dotted with mangroves. This area also has many wildlife refuges that hold an abundance of fish and bird species. The southern parts of this pristine unspoiled coast, including Tarpon Springs, Chassahowitzka, and Homosassa, are only about a 40 minute drive from the bustling city of Tampa. The Northern area can be accessed from Gainsville or Ocala.
This area is a wonderful place to escape the busy, urban areas and visit old Florida. A shallow draft skiff is needed to reach much of the area's best fishing. Fly fishing is truly the way to pursue the area's redfish, trout, and the occasional monster snook. Tarpon also migrate through the waters along the Nature Coast during the spring and summer months.
I have fished for tarpon from Boca Grande to the Keys, however I do not think there is a better fishery than we have here in the Tampa Bay and Sarasota area. That coupled with the high quality of your guide group should open this area up to many more who are not aware of it. Good luck and save some time for me this season.
You will not find friendlier, more patient guides that consistently put you on fish anywhere on the planet. The fact that they have teamed up is a great thing for every fly fisher heading to the Tampa area in need of a guide. You won't go wrong. I give thse guys two thumbs up!
As a 30 year fly fisher of Tampa Bay and the surrounding waters, and the owner of the area's only dedicated Fly Shop, Tampa Bay on the Fly, I recommend any member of the Tampa Fly Guides for a truly unforgettable experience. I have personally fished with and alongside each of these guides and I would recommend them for all levels of fly fisherman.
To book a charter please visit our individual websites where you can find our contact information.
We all fish a variety of waters in the Tampa Bay area throughout the season, targeting different fish species that are available
during specific times of the year.  Please don't hesitate to get in touch with us with any specific questions or needs.
We look forward to getting you out on the water!